Climate Adaptation in Wetlands along the Mahanadi River Catchment area in Chhattisgarh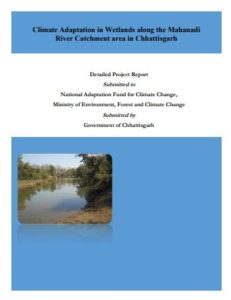 Chhattisgarh, which is the 10th largest state in India, with an area of 135,190 km2 (52,200 sq mi). The northern and southern parts of the state are hilly, while the central part is a fertile plain. Deciduous forests of the Eastern Highlands Forests cover roughly 44 percent of the state. In the north lies the edge of the great Indo-Gangetic plain. The Rihand River, a tributary of the Ganges, drains this area. The eastern end of the Satpura Range and the western edge of the Chota Nagpur Plateau form an east-west belt of hills that divide the Mahanadi River basin from the IndoGangetic plain. The central part of the state lies in the fertile upper basin of the Mahanadi River and its tributaries. This area has extensive rice cultivation.

Download Detail Project Report
---
© Copyright Chhattisgarh State Centre for Climate Change. All rights reserved.