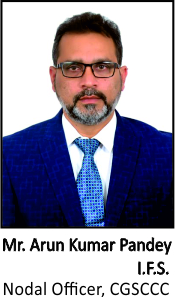 Climate Change is the greatest environmental threat humanity has ever faced. It is caused by the extensive unsustainable use of natural resource and destruction of carbon sinks that our world has been bestowed with.
India has a long history of environment protection and conservation. Since times immemorial the people of Chhattisgarh have been living very close to nature. But in recent years we are facing extreme threats of Climate Change, especially due to erratic weather and rainfall. This is greatly affecting the lives of people. As per several studies, Chhattisgarh is one of the most vulnerable areas to the impacts of Climate Change.
We have to reduce the global carbon emissions to control the present and future effects of Climate Change. In order to control anthropogenic changes in the environment and their harmful effects, it is necessary that the society as a whole joins together, not only to reduce their large consumptive behavior but also to adapt to the changes that are taking place in the environment.
Chhattisgarh is taking large scale initiatives to combat Climate Change and contribute to India's fight against this challenge and contribute to its INDC commitments. As a step in this direction, Chhattisgarh State Centre for Climate Change has prepared official website to educate the masses and help them to understand the impacts of Climate Change in both mitigation and adaptation strategies so as to make this world a better place to live in.
(Mr. Arun Kumar Pandey)
I.F.S
Nodal Officer,
Chhattisgarh State Centre For Climate Change, Raipur