Inaugural Climate Change Lecture Series on Impact of Climate Change on Forest and Biodiversity of Chhattisgarh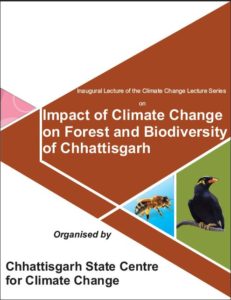 Prof N.H. Ravindranath was the Guest Speaker at the inaugural Climate Change Lecture Series organised by Chhattisgarh State Center for Climate Change on 14th July 2017. He is a professor at the Centre for Sustainable Technologies, Indian Institute of Science, Bengaluru and has focused his research, advocacy and publications on various dimensions of Climate Change, Bio-energy, Bio-fuels and Environmental Services. His work includes eight books on climate change, renewable energy, community forestry and biomass energy besides producing several assessment reports for the Intergovernmental Panel on Climate Change (IPCC).
---
Workshop Proceedings Role of State Departments in Achievement of India's Intended Nationally Determined Contributions (INDCs),26 th April 2017
To achieve India INDCs, support and efforts in sync are required to be undertaken at the state level and below. This requires, at the outset, to develop an understanding among key officials and resource persons of different departments to understand the INDCs and initiate discussing on strategy to take it forward. Towards this a one day workshop was organized to bring clarity among the departments about the INDCs and initiate thinking and planning towards achievement of these NDCs. In the Chhattisgarh State Action Plan for Climate Change (CSAPCC) eight critical sectors from climate change perspective have been identified. Representatives from these eight departments were invited to participate and were requested to present based on their long and short term strategies for climate change
as mentioned in the state action plan. A group work was also planned during which the concerned departments along with the sector experts participated to draft interventions required towards mitigation, adaption, funds requirement, technology transfer and capacity building.
© Copyright Chhattisgarh State Centre for Climate Change. All rights reserved.